Manolis Studios
Rooms to let - Thassos
---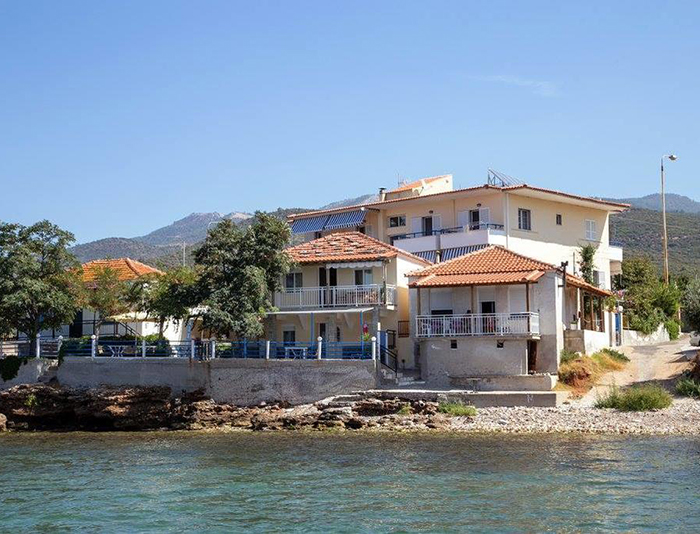 In the enchanting and charming Thassos and more specifically in Skala Kallirahis, we are waiting for you all year round to rent our "Manolis Studios" rooms, which can offer you a unique and relaxing stay during your holidays in Thassos. Our rooms to let are a beautiful accommodation above the sea that offer to every visitor high quality services, making their holidays in Thassos an unforgettable and unique experience.
The area is a quiet location ideal for couples, families and groups seeking moments of relaxation and relaxation in a magical landscape that combines the greenery of nature with the blue of the sea and the sky. The courtyard adjoining the sea is the perfect place to relax while admiring the sea and enjoying the coolness under the trees.
The family atmosphere, the friendly environment, along with the impeccable service throughout your stay in our rented rooms, will delight you.
Having our rooms to let as a starting point, you can explore all the unique beaches of Thassos, swim in the crystal blue waters of the Aegean Sea, enjoy local tastes in the traditional taverns and be enchanted by the many sights of Thassos.
In addition to our rented rooms, there are super markets, cafes, renowned fish taverns and bars to enjoy your food, a coffee, your drink or even your shopping.
The authentic hospitality you will feel from our friendly staff, our beautiful rooms and the quality services we provide make up the setting for a pleasant and relaxing stay that you will remember for a long time.
---
Rooms - Facilities
Book Now
---
"
We are waiting for you to meet you and we promise you

Unforgettable and unique holidays in Thassos
.
"


Skala Kaliraxis / Thassos

2593091841,2593091445

6948835881, 6944205903