ROOMS
Manolis Studios | Rooms to let Thassos
---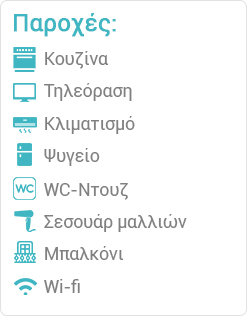 Our "Manolis Studios" rooms in Skala Kallirachis in Thassos are comfortable and fully equipped to meet your every need. They have wonderful sea views and offer all the comforts in a warm and welcoming environment to combine relaxation and fun.
Our complex consists of 8 studios of two and three persons, fully equipped, kitchen, shower, WC, TV, air conditioning, refrigerator, safe and hairdryer, as well as 2 fully equipped apartments, which are an ideal choice for your stay In Thassos. From the balcony of your room you can enjoy the sunset, as you have never seen before, with a coffee and a good company.
The luxury and comfort combine harmoniously with the thoughtful aesthetics and the beautiful environment, providing a truly high quality of accommodation. The comforts offered by our rented rooms can ensure a pleasant and comfortable stay for families, couples and groups.
In our rented rooms you will feel the intimacy of the real family atmosphere created by the comfortable rooms, the friendly staff and the daily quality of service.
Περισσότερες Φωτογραφίες
Κάντε Κράτηση
"

Come to offer you our hospitality at very good prices and be sure you will be satisfied

Like all our customers.

"


Skala Kaliraxis / Thassos

2593091841,2593091445

6948835881, 6944205903